12 Days of Christmas ~ Day 6 ~ Dayle's Favourite Things ~ Women's Gift Guide
12 Days of Christmas ~ Day 6 ~ Dayle's Favourite Things ~ Women's Gift Guide
Just call me Oprah over here! I am someone who is so dedicated to the things I love. Once I love a product I basically wear it, use it, enjoy it and tell everyone I know about it! This list is everything I think you HAVE to have!
---
Big Dreams Require Planning!
I am a dreamer. I have always been someone who loves a list to keep those dreams very clear. I also believe that saying your big scary goals out loud and writing them down is the first step in achieving them! If you have someone in your life who has big plans, this Rachel Hollis 'Start Today' Journal is the perfect gift for them!
---
Romper Life X Smash & Tess
I work from home so if you drop in on me, you will likely find me with my Smash & Tess Romper on. These babies are heaven. They are soft, Canadian made and great quality. I have four different styles and I dress them WAY up or WAY down!
It's almost hard to believe but I was once in a remote place for a funeral and I realized that the dress I brought was way too short! Oops! All I had was my Smash & Tess Romper I'd packed for the trip home the following day. My solution? I threw it on, added my cute jacket, kept my flat pointy toes shoes on and wore big gold statement earrings. I was feeling like my 'dressed up sweat suit' was going to be pretty obvious but I rolled in feeling as happy as I always do in my romper and I swear to you that someone said to me, 'Wow, cute outfit. Your clothes are always on point.'
From that day forward I have almost no boundaries with my romper wear! I love to dress it up and I love to wear it to stay cozy around the house!
Here are my favorite styles but there are a ton to choose from!
---
Coffee Lovers X Nespresso
I LOVE a great cup of coffee and I'll admit it's what gets me out of bed in the morning. It's also my favourite indulgence in the afternoon for a little pick me up! My coffee shop habit was getting out of control UNTIL I got my first Nespresso machine. It really was love at first sip! Now I often opt to save my coffee for when I'm back at home, in front of my computer instead of paying $5 for one.
---
For the Fashionista in Your Life!
This is a pricey option but if you have someone who has everything and loves fashion this is the answer! I promise whoever you buy this for will LOVE it. I wear mine on the regular!
---
A Home with Style
I never thought I'd be one of those people who liked practical gifts but here I am! Like many of you, I have a lot of stuff. I also can't handle clutter. I am constantly editing, sorting and donating the things I no longer need or use. After purging your home it feels so great and is a reminder to stop bringing in more stuff. When I'm buying something now I have to be sure that I will love it and I will use it. If not, I don't want it taking up space until my next clean-out!
Smeg products are great examples of upgrades to our existing useful items that also bring so much style to your kitchen!!
---
The Bigger the Earring, the closer to God??
Well maybe that isn't how the saying goes but do I LOVE a huge earring to dress up basic outfits. A fact about me is I like to look nice but I prefer comfortable, simple cuts and casual fabrics like cotton. My solution? I add jewelry. The bigger the earring the better! The one problem with this is I don't like heavy (AKA - uncomfortable) earrings. I have found the PERFECT pair! The best part is these are locally made in Calgary by Tish Jewelry and they are super affordable! These make an awesome gift!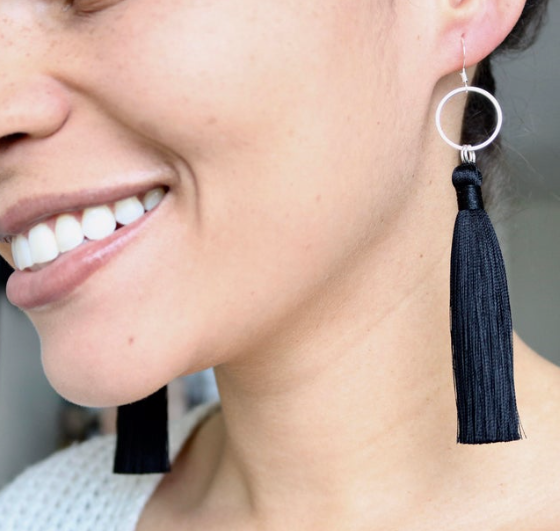 ---
What are your favourite things? I hope you all get everything you wish for this year! Thank you so much for following along with this years 12 Days of Christmas! I just love all of the feedback I get from you! Join me tomorrow for my last gift guide!
XO
DS
---
---