12 Days of Christmas ~ Day 2 ~ Affordable Holiday Decor
12 Days of Christmas ~ Day 2 ~ Affordable Holiday Decor
If you know me, you know I LOVE nice things but I also love a great deal!
Getting a lot of bang for my buck is very important to me. When decorating for the holidays it can be challenging to know when to splurge and when to save. What pieces will have the most impact?
Many of my clients want to throw everything they have in the garbage and start over. DO NOT do this! Your holiday decor likely just needs editing! Adding a few new pieces will bring the whole holiday look together!
Today I had the honour of spending the morning with the super fun CTV Morning Show crew going over all of my favourite finds to jazz up your holiday home!
Check out my picks this year!
**Links to products can be reached by clicking the photos**
---
Hello Beautiful!
I love the quality, the style, the size and the price of this reindeer decor. It is great because for just under $50 you are getting a major statement piece.
---
Pillow Love (or Hate!)
Is my home the only home that pillows are a hot button topic? Darren is NOT a fan of 12 pillows on every bed or sofa, go figure! Unfortunately for him, I'll never stop loving pillows! Reusing the same pillow insert and just replacing the cover is my trick for not adding to the number of pillows you have while allowing you to have a variety of decor options for every season! It's also a really affordable way to make a subtle change!
---
Mantel Magic
This pre-lit, 9-foot length of garland is such a great way to add some softness to your mantel or staircase! For under $25 you can add a lot of sparkle and volume to your decor!
---
Tree Top Upgrade
The Christmas Tree is the most iconic of all the holiday decor and the star is the crown jewel, so this year I thought I would upgrade my star to this gorg 3D one! I went with a white option (my favourite decor colour!). The great thing about a white star is if/or when I want to change my holiday decor colour-scheme it will work with different palettes.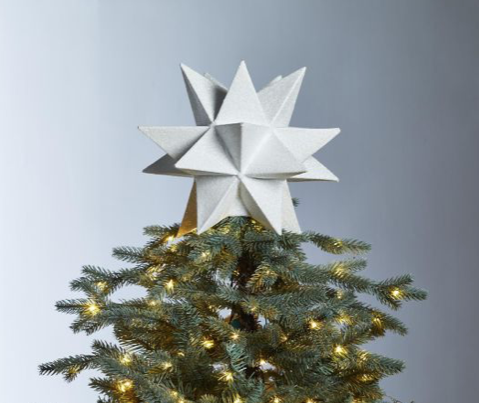 ---
Let's Decorate!
Speaking of trees, I love a mini tree and I love to spread Christmas all over the house. Whether these end up on my mantel, the island, the coffee table or in the guest powder room they will be gorgeous! Plus who doesn't love a little faux feather touch to add some texture?
---
You've Gotta Wrap, So You Might As Well Make Those Gifts Work!
Last but not least, if you really just don't have the budget for new decor but you want to beef up the holiday spirit around your home here's my tip! Wrap your gifts REALLY beautifully in papers that coordinate with your decor. You have to wrap presents anyway. Why not have them do double duty as decorations too! If I feel like I have an empty corner I will wrap a large, medium and small gift to stack and fill the space with something festive!
---
Help Has Arrived!
If you are struggling with pulling your holiday home together, check out my Holiday Decor Design Boards. They are super affordable (just $95!) and include a FaceTime home tour, Consultation, and a Design Board of affordable and beautiful options to fill in your home for the perfect holiday scene!
Thank you for reading today's blog and watching this morning on CTV! If you missed me this morning you can head over to Global Morning Show to catch this list again on December 4th at 8:40am. Also, if you have any questions please feel free to contact me!
---
Thank you for following along on my 12 Days of Christmas journey! I'll be back tomorrow with 'What I'm Wearing' this holiday season!
XO
DS
---
---