12 Days of Christmas ~ Day 5 ~ Kids Gift Guide
12 Days of Christmas ~ Day 5 ~ Kids Gift Guide
If you are like me, you know the struggle with buying the kids in your life Christmas gifts. Their parents desperately wish for less 'stuff' in their spaces while you still want the joy of Christmas to be a wonderful memory for them. I have come up with my list of gifts that will provide experiences they will remember forever!
---
Subscription Boxes
I love the idea of a fun surprise showing up throughout the year. It's the gift that keeps on giving! The cool thing about these is they are educational and they are something that the gift giver can do with the child as they are all learning activities. You can choose the appropriate age box for your children and you can choose the frequency of the deliveries. There are 1 month, 3 month, 6 month and 12 month options.
+++Click on Photos for Links to Products+++
---
Live Productions
Most city's have children's theater or traveling productions that come into the city for a few days at a time. These aren't as exciting on Christmas morning as a toy but the special day together will be remembered long after the holidays are over.
Calgary has a few great options! The first is the Loose Moose Theater
Story Book Theater
---
Classes
Do something fun like enroll your little one in a cooking class! Calgary has a bunch of great options for kids to build confidence and independence through learning something new. Here are a few great options.
Epicurious Kids Cookery
Atco Blue Flame Kitchen
Poppy Innovations
---
Personalize It
As a child ALL I wanted was something with my name on it. Dayle isn't the most common name so that dream only came to life once! When it did, I was thrilled! Some of my favourite ways to give gifts that are personalized are ...
---
Pottery Barn
PB has so many great ways to personalize everything from toys to blankets! Here are my favourite options.
---
Personalized Books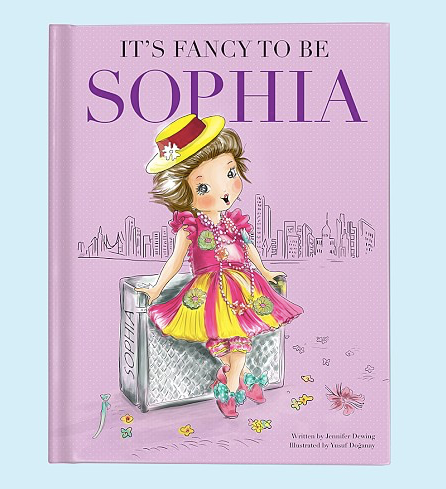 Personalized Hooded Towels
Personalized Growth Chart
Personalized Toys
---
I hope you find the perfect gift for your littles this year! I LOVE shopping for my babies (aka my nieces and nephews!) Kids really do remind us all of the joy of Christmas! Join me tomorrow for My Favourite Things - Women's Gift Guide!
XO
DS
---
---